These are some of the roses that are tolerant of partial shade
Anthony Meilland 'Metialbaz'
Yellow roses are great glowing in shade. Anthony Meilland is a floribunda that blooms in a rich yellow that does not fade out. Large double blooms are borne in clusters, and will often produce a second flush in late summer even in the shade. Fragrance is mild and pleasant. Anthony Meilland's plant is bushy and mounded, creating an excellen hedge or mass planting. Hardy to zone 6-9, zone 6 will require winter protection.
Often referred to as a Polyantha, 'Ballerina' is actually a hybrid musk rose. Hundreds of small blooms with five petals are borne in large clusters. The blooms are a bright medium pink with white eyes, blooming heavily in summer with another flush in autumn. 'Ballerina' is a graceful specimen plant with a rounded form and arching branches. Hips are formed in fall if the final flush of blooms is not deadheaded. 'Ballerina' is an own root rose, making it hardy to zone 5. Widely known for its' shade tolerance, 'Ballerina' thrives on only a half day sun.
Carefree Wonder 'Meipitac'
This Meilland shrub rose may be known as 'Meipitac' or 'Dynastie'. Semi double blooms are a pink blend with white edges on the petals. 'Carefree Wonder' is an exceptional bloomer, often repeating. Fragrance is light and sweet. Mass plantings are spectacular, or creates a wonderful low hedge or border. It is very adaptable and quite tolerant of shade. In zone 7 and warmer, some afternoon shade will definitely benefit the plant. The plant is compact and bushy, producing hips in the fall. Very low maintenance and easy to grow, 'Carefree Wonder' is hardy to zone 5.
'F. J. Grootendorst' Rugosa Rose
'F. J. Grootendorst' is one of the Rugosa Roses that will tolerate light shade. Bright red double blooms are born in clusters. Fragrance is light and spicy. The plant grows tall and is a great specimen plant or the back of the border. Rugosa roses are tough and hardy, easy to grow, and tolerant of not only shade, but also wind, salt and poor soil. Hardy to zone 5.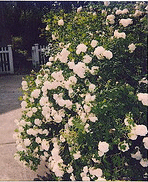 Fair Bianca is a David Austin English Rose. Very full Camellia like blooms are pure white and very fragrant, a spicy anise scent. Large clusters of medium sized blooms are borne evenly over a 3-5 foot bush. Blooms cover the bush in mid-summer, then blooms lightly again through fall. Great in a cottage garden or mixed border. Hardy to zone 5.
Golden Showers is another David Austin English Rose, but is a climbing rose. Plant it where it won't have to compete with other roots and it will bloom nicely with four to five hours of sun. The blooms are large with a sweet fragrance, with strong stems good for cutting. The semi double flowers open in a golden yellow and fades to butter. The continuous bloomer begins in late spring and blooms late into autumn. In addition to tolerating some shade, Golden Showers will also tolerate poorer soils. It is nearly thornless and grows to about 10 feet in full sun, will often be 6 - 8 feet in shade. Hardy to zone 5.
'Gruss an Aachen' is a floribunda rose with an Old Garden Rose form with salmon pink petals and salmon cream centers. The fully double blooms are at least 3" with a lovely fragrance. Blooming begins in early spring and continues to frost. Large clusters cover a compact plant, about 2 feet high and wide. It grows slowly on its own roots and is a hardy little rose. 'Gruss an Aachen' will tolerate some light shade. Hardy to zone 5.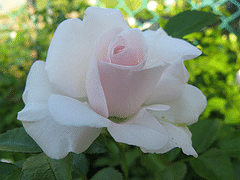 Ice Meidiland is an easy to care for ground cover rose. Pompom blooms are white with soft pink tones, produced in clusters from late spring to frost. The plant has a pleasing mounded habit with arching branches that is well behaved, reaching 2 - 3 feet and spreading 3 - 4'. Thorns are very sharp and woody. Deadhead to encourage blooming. Hips are formed in fall if blooms are not cut. Hardy to zone 5.